The biggest box office clashes in Bollywood
'Raees' vs 'Kaabil' - January 25, 2017
Earlier both the films -- 'Raees' and 'Kaabil' -- were slated to release in the cinema houses on January 26. But then both the makers decided it to release the movies a day before. Finally when Raees and Kaabil released, Rakesh Roshan alleged that Raees was getting 60 per cent screens while Kaabil was getting only 40 per cent
After all that in-fighting and war of words between fans of Shah Rukh Khan and Hrithik Roshan, both films managed to cross the Rs 100-crore mark and Raees and Kaabil broke the January jinx and emerged as the first blockbusters of 2017. Raees made Rs 139 crore approx in collections while the Kaabil earned Rs 127 crore approx. Also both the films got Avg critix rating as 3.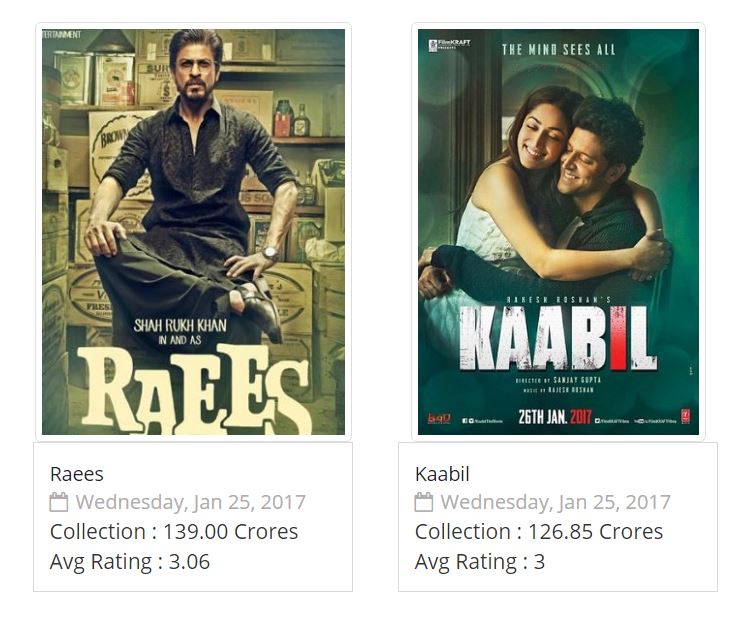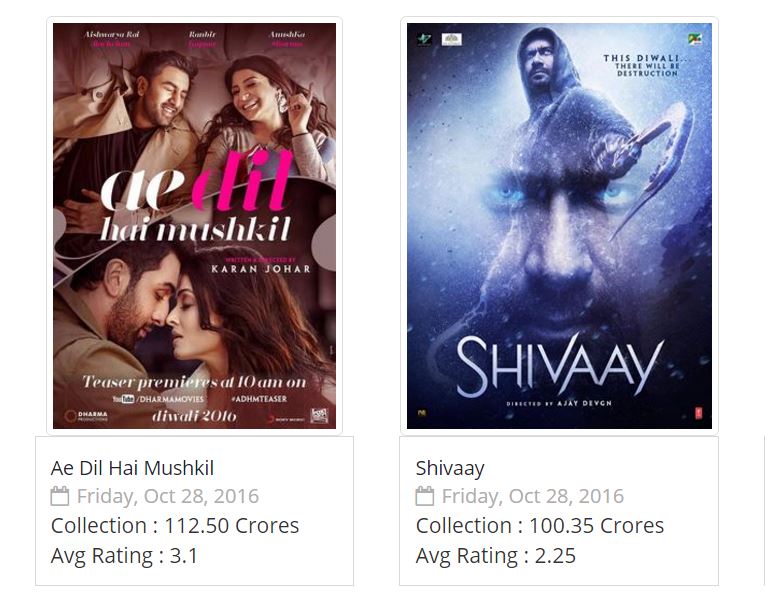 'Ae Dil Hai Mushkil' vs 'Shivaay' - October 28, 2016
'Ae Dil Hai Mushkil' vs 'Shivaay' box office clash created quite a buzz ahead of release. From Ajay Devgn and Kajol's soured relationship with Karan Johar to the ban on Pakistani artistes jeopardising the release of 'Ae Dil Hai Mushkil', the two films have been dragged into many controversies. 'ADHM' is a romance-drama starring Ranbir Kapoor, Anushka Sharma, Aishwarya Rai Bachchan and Fawad Khan, while 'Shivaay' is an action-drama featuring Ajay Devgn, Erika Kaar and Abigail Eames
'Rustom' vs 'Mohenjodaro' - Aug 12, 2016
Akshay Kumar won the clash. Earlier on paper Mohenjodaro looked like a clear winner as it was a big budget movie and had the combo of Hrithik Roshan and Ashutosh Gowariker which delivered Jodha Akbar. Expectations were sky high. After the trailers came out things slowly started to turn in favor of Rustom and celebs promotion made the damage even more. Mohenjodaro opened poorly and couldn't pick up and emerged as a Disaster and Rustom opened well and finished as the 3rd Biggest Hit of the year.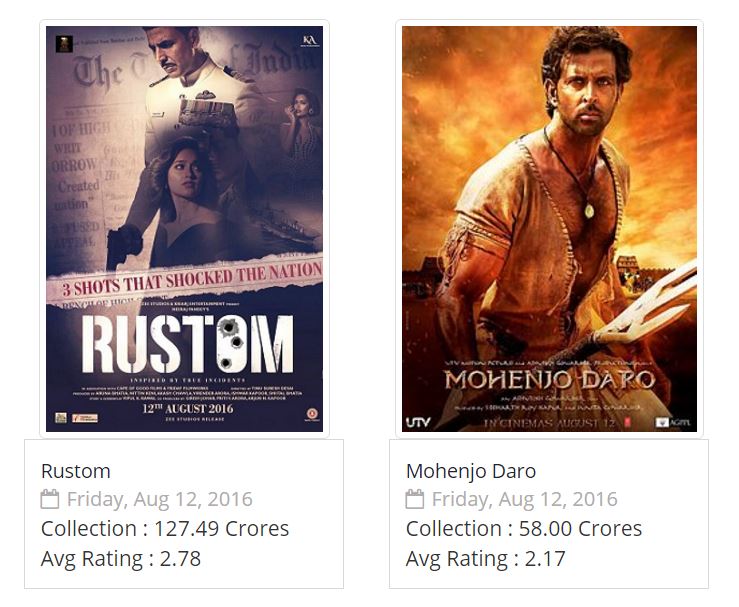 'Dilwale' vs 'Bajirao Mastani' - December 18, 2015
The clash of Rohit Shetty's action comedy 'Dilwale' and Sanjay Leela Bhansali's period drama 'Bajirao Mastani' was pegged as the biggest box office clash in years. Actors of the two films labelled the clash as 'unfortunate'. There is no denying that the audience and business got divided with some wanting to witness the magic created by the iconic pair SRK-Kajol and some opting for a slice of history presented on a lavish scale.
'Jab Tak Hai Jaan' vs 'Son Of Sardaar': November 13, 2012
2012 saw box office face-off between Shah Rukh Khan-starrer 'Jab Tak Hai Jaan' and Ajay Devgn's 'Son of Sardaar'. Devgn, at that time, had dragged Yash Raj Films to court for allegedly misusing its dominance to deny enough single screen theatres to 'Son of Sardaar'- the film had released on nearly 500 screens less than 'Jab Tak Hai Jaan'. 'Son of Sardaar' lost out to 'Jab Tak Hai Jaan' in terms of box office collections too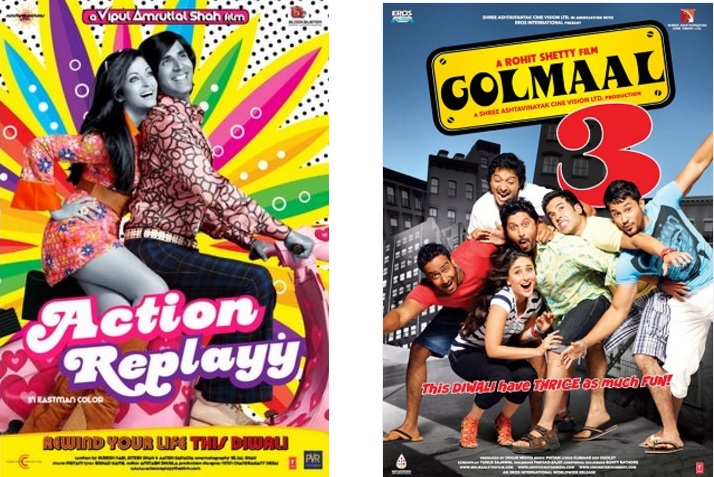 'Action Replayy' vs 'Golmaal 3': November 5, 2010
Although the former had big stars like Akshay Kumar and Aishwarya Rai, it was Rohit Shetty's comic caper that won this battle hands down
All The Best' vs 'Blue' vs 'Main Aur Mrs Khanna': October 16, 2009
Rohit Shetty again won the three-way battle, with his brainless comedy. Blue, then the costliest Bollywood film to be made, sank without a trace while Main Aur Mrs Khanna had no chance since it had more of Sohail Khan and less of Salman
'Fashion' vs 'Golmaal Returns': October 29, 2008
Four movies released together with the most anticipated battle being between Madhur Bhandarkar and Rohit Shetty. Both films found their share of audience and the producers got their money's worth
'Jaane Tu Ya Jaane Na' vs 'Love Story 2050': July 4, 2008
Aamir Khan launched his nephew Imran Khan in the romantic comedy 'Jaane Tu Ya Jaane Na', while Harman Baweja had his father's backing in the sci-fi 'Love Story 2050'. Verdict? 'Jaane Tu Ya Jaane Na' struck a chord with viewers, especially youngsters, and raked in lot of moolah. 'Love Story 2050' turned out to be a box office dud. Pic/Santa Banta
'Taare Zameen Par' vs 'Welcome': December 21, 2007
Aamir Khan's directorial debut 'Taare Zameen Par' touched our hearts and made us shed a tear or two, while Anees Bazmee's multi-starrer 'Welcome' was a laugh riot! With the two films belonging to different genres, they did well at the box office and were among the top grossers of the year. Pic/Santa Banta
'Om Shanti Om' vs 'Saawariya': November 9, 2007
The biggest Diwali clash of the last decade, the outcome of this battle was quite an anti-climax. Farah Khan's reincarnation saga turned out to be a blockbuster while Sanjay Leela Bhansali was left to rue making a movie that was a 'festival' film in an altogether different sense
'Don' vs 'Jaan-E-Mann': October 20, 2006
Shah Rukh won this battle of the Khans hands down. Although 'Don' was nothing but a stylised remake of the original, Shirish Kunder did not have the talent to pull off a winner in spite of having Salman Khan, Akshay Kumar and Preity Zinta in his camp
Garam Masala vs Kyon Ki (2005)
Garam Masala is considered as one of the best entertainers in Bollywood whereas Kyon Ki neither got good reviews nor good collections and sank without trace. Kyon Ki had some nice songs.
'Aitraaz' vs 'Veer Zaara': November 12, 2004
Yash Chopra returned to direction with a bang courtesy Veer Zaara. The film proved that there were still takers for his kind of cinema. Abbas-Mustan's 'Aitraaz' did average business, thanks in main to the seductive Priyanka Chopra
'Saathiya' vs 'Kaante': December 20, 2002
Given the choice to watch a love story or a heist, which one would you prefer? Though Vivek Oberoi and Rani Mukerji's performance in Shaad Ali's 'Saathiya' won many a hearts, it was Sanjay Gupta's 'Kaante' that set the cash registers ringing and went on to become one of the top grossing films of the year. Pic/Santa Banta
'Lagaan' vs 'Gadar: Ek Prem Katha': June 15, 2001
Aamir Khan's rural sports drama 'Lagaan' won critical acclaim and accolades, including an Oscar nomination, while Sunny Deol and Ameesha Patel's Indo-Pak partition saga 'Gadar: Ek Prem Katha' had an upper hand in the box office race. Pic/Santa Banta
'Mission Kashmir' vs 'Mohabbatein': October 27, 2000
In comparison to DDLJ, this Aditya Chopra-flick was a dampener. Even so, the high-octane SRK-Amitabh clash helped the film do exceedingly well. In contrast, Vidhu Vinod Chopra's terror tale had nothing new to offer, and even Hrithik Roshan could not salvage the film
'Kuch Kuch Hota Hai' vs 'Bade Miya Chote Miya': October 16, 1998
Karan Johar announced himself during this Diwali with a mish-mash of love, friendship, sacrifice, which won over the audiences with ease. The other release, starring Amitabh Bachchan and Govinda, did average business, but there were no two ways as to who won this encounter
'Lamhe' vs 'Phool Aur Kaante': November 4, 1991
Prior to the D-day, opinions were almost unanimous, that Yash Chopra's film would sweep away Ajay Devgn's debut flick. As history has it, what transpired was quite the contrary. Devgn's action flick mesmerised the viewers while Chopra's mature love story did not find favour with cinegoers
Quick Links
Review Rating Collections